Events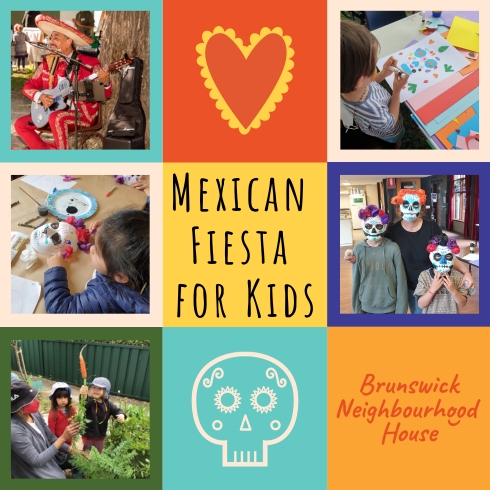 Mexican Fiesta for Kids
Hola! Join our Mexican Fiesta for Kids at the Brunswick Neighbourhood House.
This free Children's Week celebration offers an exciting and educational experience for kids and families of all backgrounds.
Embrace Mexican culture by making Day of the Dead themed masks with Mexican visual artist Lizette as well as colouring in activities, gardening activities and a coffee cart for the parents, all while enjoying music from The Mexican Music Man, Alejandro.

This Childrens Week event is presented by Brunswick Neighbourhood House Co Operative Limited in partnership with the Victorian Government.

When: Sat 10.00am -12.30pm
Term 4: 21st Oct
Cost: FREE
Venue: 43a De Carle St., Brunswick.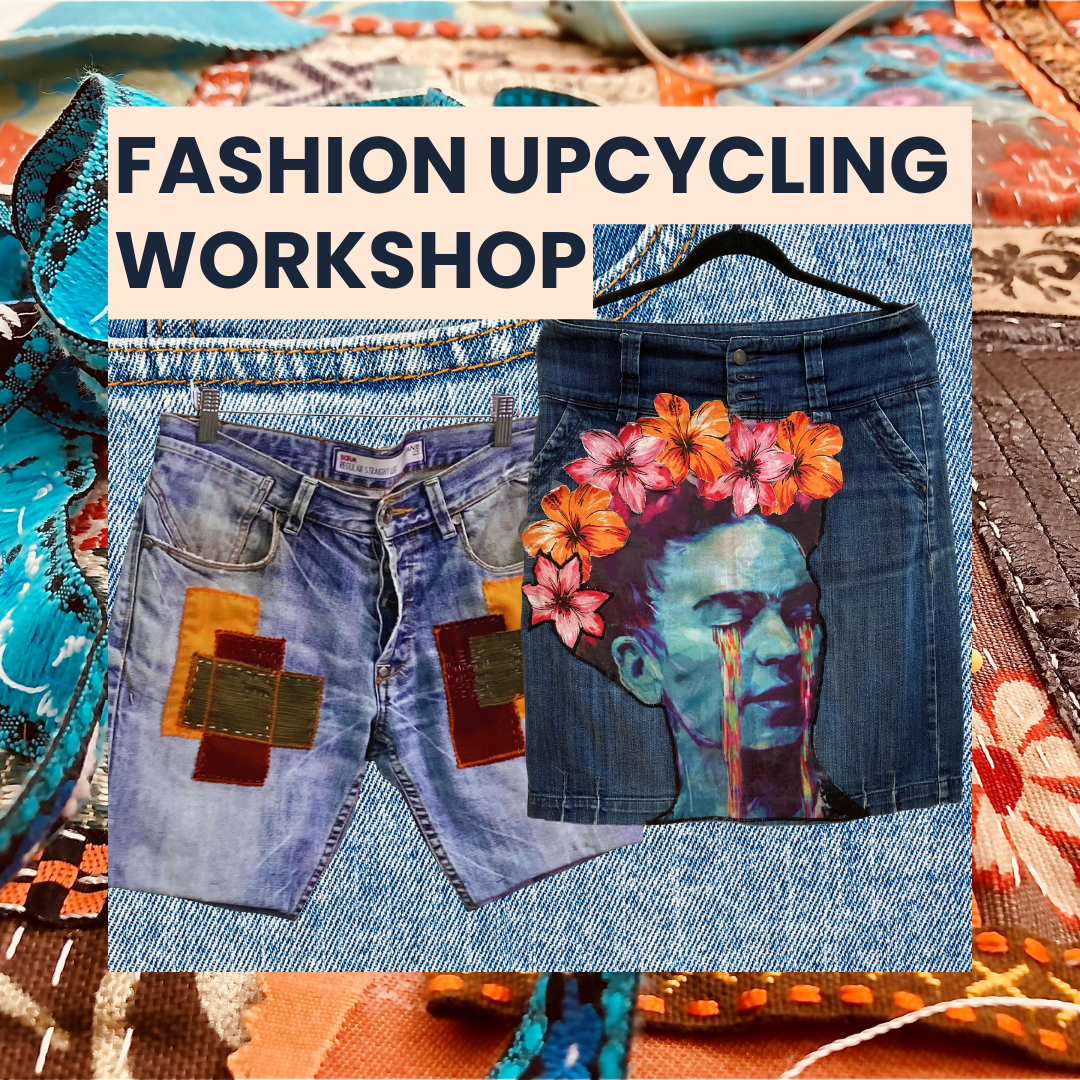 Fashion Upcycling Workshop
Have any old clothes or thrift finds that could do with patching, tailoring, or embellishing before you get any more wear out of them? Come along to our upcoming Fashion Upcycling Workshop, where you'll receive materials, sewing equipment and advice on how to repair and transform your garments. All participants can bring up to three garments for mending.
When: Sun 10.00am -12.30pm
Term 4: 29th Oct
Cost: $40 full/$37 conc.
Venue: 43a De Carle St., Brunswick.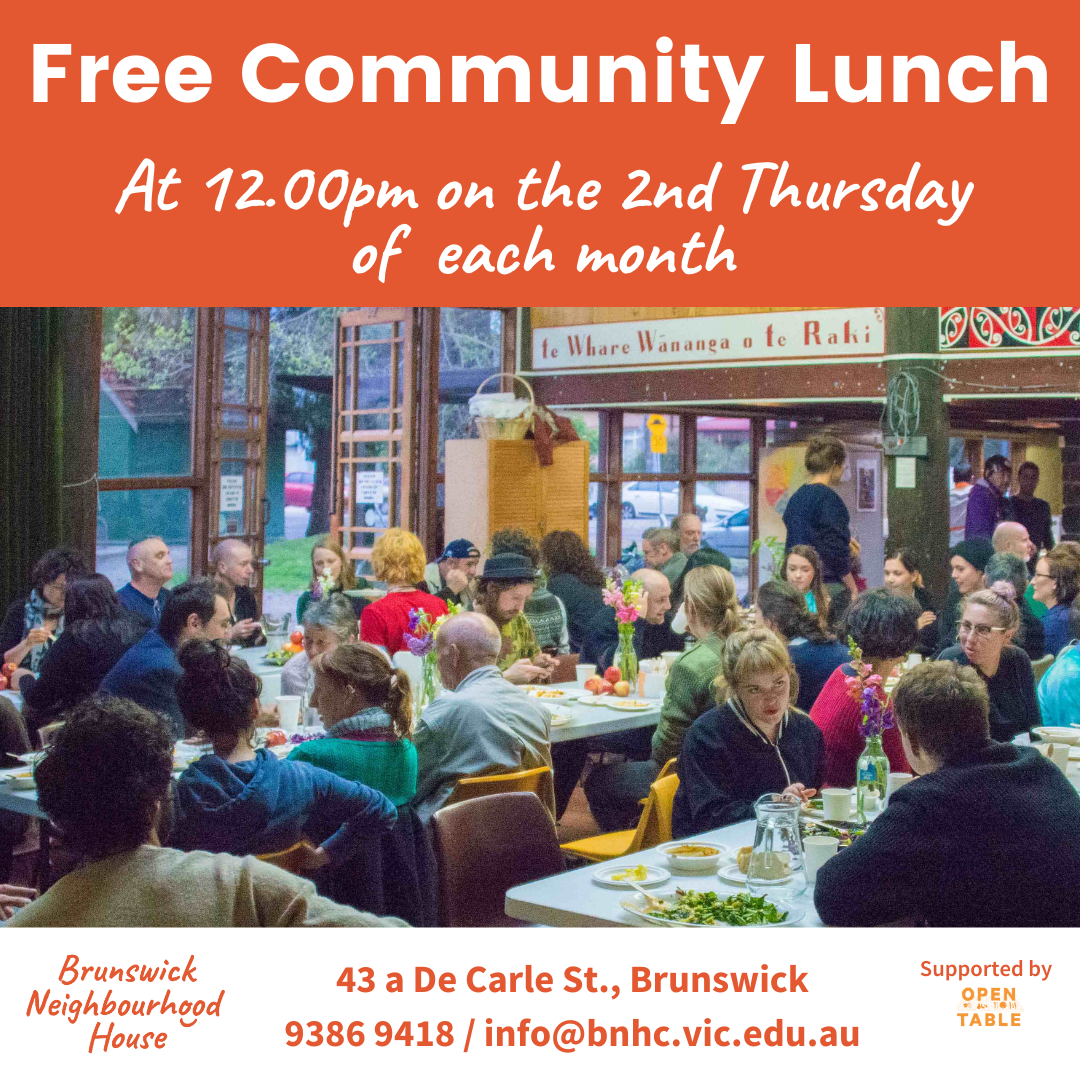 Free community lunch
Next lunch: Thursday 14th September
Lunch served at 12.00 noon
Venue: 43a De Carle Street, Brunswick
Join us for a delicious, free, vegetarian lunch at 12.00pm on the 2nd Thursday of each month. See all dates for 2023
This event is for everyone, from those who don't have much to those who have plenty. It's a great way to meet other people in your community, and enjoy a free, delicious vegetarian meal.
Each meal is prepared by a team of wonderful, dedicated volunteers using food provided by Open Table, plus herbs and vegetables, when available, from the BNH Kitchen Garden. Meet your neighbours, build our community. Food supplied by Open Table – contributing to a waste-free food cycle.
Diners are welcome to bring a take-home container in case there are leftovers at the end of the sitting.
Adult Learners Week 2023

Brunswick Neighbourhood House will be hosting affordable fashion workshops for adult learners' week 2023. Workshops including 'Fashion Drawing' and 'Personal Colour Schemes' will be led by our tutor Heather, who has more than 20 years' experience teaching fashion design and textiles. Both workshops are catered to people of all abilities and biscuits will be provided for a morning tea break.

Learn to crochet

A workshop for anyone who's ever wanted to make that special rug but needs to learn the crochet basics. You will learn how to follow pattern instructions and how to do different stitches; how to weave in ends and to block and join squares together. Materials to get you started will be provided, along with notes on everything covered in the class.

When: Sat 10.30am – 12.30pm
Term 3: 5th Aug
Cost: $55 full / $51 conc
Venue: 43a De Carle St., Brunswick

Neighbourhood House Week

Monday 8th May – Sunday 14th May

Join in one of our activities during Neighbourhood House week. Bookings on 9386 9418
Neighbourhood House Week is an annual national celebration, recognising the important contribution over 1,000 neighbourhood houses make in local communities across Australia.

Wednesday 10th May | BNH Walking Group 9.30am – 11.30am | Free. Bring coffee money | 18 Garden Street, Brunswick
Thursday 11th May | Yoga- 9.30am – 10.30am | cost $22.00 | 43a De Carle St, Brunswick
Thursday 11th May | Maker and Menders 10.00am – 12.30pm | cost $3.00 | 43a De Carle St, Brunswick
Thursday 11th May | Community Lunch 12.00pm – 3.00pm | Free | 43a De Carle St, Brunswick
Friday 12th May | Contemporary Line Dancing – 9.30am – 11.00am | Free | 43a De Carle St, Brunswick
Saturday 13th May | Sourdough Workshop 2.00pm – 5.00pm | cost $60 full/$54 conc | 43a De Carle St, Brunswick

Brunswick Multicultural Festival


Come along to this free event! Through out the event there will be performances, workshops, market stalls and more..
Free workshops: Bookings essential on 9386 9418 or info@bnhc.vic.edu.au
Compost and worm Farming workshop from 11am- 1pm
Recycled Crafting Workshop for Kids from 10.30-11.30am

When : Sunday 30th April 10.30am – 2.30 pm
Where: Warr Park Reserve – De Carle St., Brunswick

Performance

Where there's a A will
When: Friday 14th April | Bar Opens at 7.30pm for an 8pm start
Where: 43a De Carle St, Brunswick
Tickets: $25.00

Q & A Presentation

-Bin Waste System

Merri-Bek council is rolling out a new 4-bin waste system with a new container for glass.
Find out what this means for you and your neighbourhood with a presentation and Q&A session over a coffee and pastry.

When: Sat 25th March | 10.15 or 11.15am
Where: 43a De Carle St., Brunswick
Cost: Free – Bookings essential on 9386 9418 or info@bnhc.vic.edu.au
Venue: 43a De Carle St., Brunswick

Sydney Rd Street Party

Come along and visit our Information Stall at the Sydney Rd street Party
When: Sunday 5th March | 12 – 7pm
Where: Sydney Rd, Brunswick

Pop Up Event

Come along to our Pop Up event that will feature a Compost and Worm Farming workshop.
When: Saturday 25th Feb | 10am -12pm
Where: 43a De Carle St., Brunswick
Bookings for the FREE workshop essential on 9386 9418 or info@bnhc.vic.edu.au